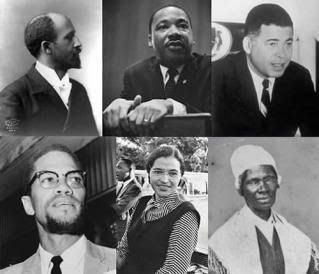 In 1926, a historian by the name of Dr. Carter G. Woodson, who was a Harvard Ph.D., initiated
"Negro History Week" for the purpose of celebrating Black History. Dr. Woodson specifically chose the second week of February because the birthdays of Frederick Douglass and Abraham Lincoln were both included within that week. In the 1976 Bicentennial (200th birthday) of the U.S.A., the week-long observance was extended so that there would be enough time for all the celebratory programs and activities.

Another very important day in Black History is Juneteenth Day (also called Freedom Day or Emancipation Day) and it is celebrated on the 19th of June, each year. That day is in recognition of the June 19, 1865 anniversary of the emancipation of the last remaining slaves in Texas; the Civil War had already ended two months prior to that, and Gen. Gordon Granger took 2,000 Union troops with him to Galveston, Texas to enforce the freeing of the slaves. On Jan. 1, 1980, Juneteenth was declared an official holiday in Texas and this uplifting celebration of freedom is continuing to gain in popularity around the U.S.A.

In celebration of Black History Month,
Lee Verday
, owner of the blog,
By Pen or by Sword
is having a contest and the winner will be awarded two nice prizes. The find out the details, visit his blog by clicking
here
.

Until next time...stay safe, stay well, and may the Lord bless you all.
Cynde

Please visit my other blogs:
Cynde's Daybook
~and~
Usurper Exposed
. Thank you!