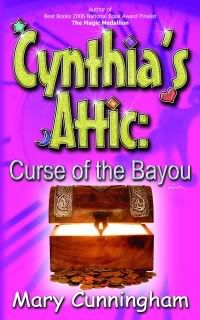 "Cynthia's Attic: Curse of the Bayou"
is the
third
in a four book
"Cynthia's Attic Series"
written by
Mary Cunningham
, that I am going to review for you here on my blog today.
The first book in the series, entitled
"Cynthia's Attic: The Missing Locket"
was already reviewed for you on my blog
here
.
"Cynthia's Attic: The Magic Medallion"
is the second book in the series, and it was already reviewed
here
.
Before I go any further, let me say that you
could
read each of the books without reading the others, and
still
get a lot of enjoyment out of them. However, I
highly
recommend that you read
all
four of the books in this series! If you don't, you would be missing out on
loads
of fun and adventure, plus I think you would
really
regret it.
The Synopsis:
"Colorful pirates. SuRana— a shape-shifting puma, and an old Cajun guide named Mud Bug join Cynthia and Gus as they explore the "Curse of the Bayou". The latest quest for the adventurous, twelve-year-old best friends finds them in a Louisiana bayou. There, they search for answers in the disappearance of Cynthia's great-grandfather, Beau Connor, who was on his way down the Mississippi River to sell a flatboat full of produce.

With the help of a magic truck in Cynthia's attic, this time-traveling duo venture back to 1914 New Orleans. The warm welcome and advice from old friend, Gabriella, is small comfort when Mud Bug warns them to stay away from Buzzard Jack LaBuse, the meanest, orneriest pirate this side of the Mississippi, and his gang of misfits, Snags, Darby, and Salty Sam, their thieving parrot mascot.

A trip to Connor's Southern Indiana farm reveals a strange connection between Beau and Buzzard Jack, and a family curse that might be responsible for Cynthia's great-grandfather's disappearance. Returning to New Orleans, a harrowing ride on a roller coaster sends them farther back in time to 1844, straight into the clutches of the evil pirate, fighting for their lives.

A mysterious treasure and heart-stopping adventure lead to a final confrontation in the girls' mission to save Great Granddaddy Beau."
My Review:
This is the second book in a series of four (so far) exciting books in the
"Cynthia's Attic Series"
. Once again, Gus (Augusta Lee) and her best friend Cynthia, the twelve-year-old, time-traveling duo in these adventures, are reunited to solve another suspenseful mystery.
As the two girl time travel from the Connor's farm in Southern Indiana to the Louisiana bayou, they meet up with several colorful characters. Gabriella, their fortune-telling gypsy friend from book two,
"The Magic Medallion"
, appears to give them friendship, comfort, and much-needed advice. They meet an old, gruff Cajun guide named Mud Bug who warns them to steer clear of the evil pirate, Buzzard Jack Labuse and his gang. They later meet up with the sweet Jasmine and her little boy Mooty, who they finally figure out is Mud Bug as a youngster. You'll have to keep your eyes open in this book because it's fast-paced and there are hidden clues everywhere.
The evil pirate, Buzzard Jack LaBuse and his gang are after them, they have an encounter with a shape-shifting Puma, there are witch's spells, an alligator follows them, people and boats disappear, and Gus even has to use a hunk of bologna to save herself! The intrigue is never-ending in this book. I could't bare to put this book down—I wanted to read the entire book straight through, and I almost did—it's really a
great
book!
My Rating: (poor, fair, good, great, or excellent)
I like this book the best so far out of the three that I've read in the
"Cynthia's Attic Series"
—and that's really saying
a lot
.
All
of these books have been
incredible
; however, in my opinion, Ms. Cunningham improves with every book that she writes. This episode is extremely fast paced and exciting, plus it's loaded with fun twists and turns that will make it difficult for you to put the book down for a minute. Believe me—you're going to want to read it from start to finish in one sitting, so you had better prepare for a reading marathon! I recommend this book for children between the ages of 9 and 13 or anyone who enjoys fun and adventure—I'm 50+ years old and I loved every minute of it. This is an
excellent
book—well done, Mary!
I can't wait to read book four in the series, which is entitled
"Cynthia's Attic: The Magician's Castle"
.
Anyone wishing to learn more about the author,
Mary Cunningham
, please visit her website by clicking
here
.
Also,
don't forget:
as soon as I have completed reviewing the entire
"Cynthia's Attic Series"
here on my blog,
Mary Cunningham
will be
coming here
for a
"Guest Author Interview!"
So...keep watching!
Also...
don't miss
your chance to win a
FREE
,
Autographed
copy of
"Cynthia's Attic: The Magician's Castle"
. The contest details are
here
and the contest ends:
midnight on Sunday, 11 April 2010
.
Until next time...stay safe, stay well, and may the Lord bless you all.
Cynde

Please visit my other blogs:
Cynde's Daybook
~and~
Usurper Exposed
. Thank you!