It's long past the time I said I would review the
"Kindle2"
that my husband, Dion, bought for me. I have owned it for approximately two months now, and I totally ♥
lurve
♥ it!
Here is the front view of the
"Kindle2"
: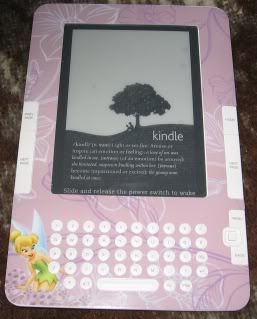 And here is the back view:
I don't know about you, but I think my
"Kindle2"
is absolutely
adorable!
As you may recall, my husband also purchased a
"SkinIt"
that is in a gorgeous
"Tinker Bell"
design, as you can see by looking at the photos, above. Otherwise, the
"Kindle2"
would have looked like this: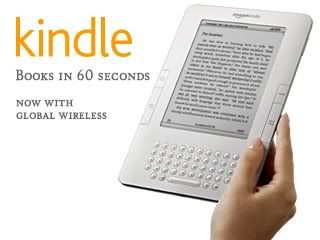 The original version is not hideous or anything; it's just not as pretty as it is with the awesome-looking,
Tinker Bell
–
SkinIt
on it. And the
"SkinIts"
come in lots of different designs. I believe you can even have your own custom-made designs, if you want. I think they're
great
—and reasonably priced, too.
Here is a list of some of the things that you will be able to do with your
"Kindle2"
(I've personally tried each one!):


Read books easily (it's fun!) While you're reading, if there's a word you don't know, just rest the cursor on it, and the display will pop up telling you all about what the word means. Also, if the particular book that you are reading at the time allows the text-reading feature, the "Kindle2" will read the book out loud to you. How cool is that!?!


Shop for books (lots of them free) at the Kindle Store


Obtain free books from several different sources online


Download blogs, newspapers, magazines, audiobooks, mp3's and other text. Amazon will store a copy of them for you. That way if you delete them (by accident or otherwise), you will be able to download them (if you want to) without having to pay for them again.


Shop on eBay, and other shopping forums



Bookmark each favorite website visited


Add notes or highlights at special spots in the books that you are reading


Forward pdf documents from your computer to your "Kindle2" so they can be read more easily (I totally ♥lurve♥ that feature!) The same can be done with Microsoft Word, TXT, HTML, RTF, or images like JPEG's and GIF's. If you send them to your dedicated "Kindle2" email address, Amazon will convert the documents into the "Kindle2" format and wirelessly provide it to your "Kindle2" via "Whispernet" for a small fee, or back to your computer for free.


I think that's about it except this:
I purchased a book entitled:
"The Kindle2 Cookbook: How To Do Everything the Manual Doesn't Tell You (Kindle Edition)"
by
David Emberson
, that's full of terrific information about how and where to get free books, plus lots of tips and tricks that the
"Kindle2"
User's Guide, 4th Ed.
just
does not
provide for you. Furthermore, there are other books available on Amazon along these lines, but this one is my
favorite
. You, of course, are free to choose one of your own, but I do advise you to at least purchase
one
of them to supplement the
User's Guide
. Trust me: you'll be
glad
you did!
My Rating: (poor, fair, good, great, or excellent)
If I were asked to give an overall evaluation of the
"Kindle2"
, I would definitely say:

Until next time...stay safe, stay well, and may the Lord bless you all.
Cynde

Please visit my other blogs:
Cynde's Daybook
~and~
Usurper Exposed
. Thank you!