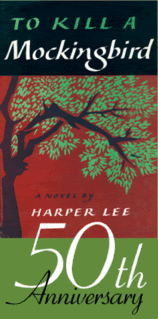 To commemorate the Golden Anniversary of
"TO KILL A MOCKINGBIRD"
by
Nelle Harper Lee
heralded as the "Best Novel of the 20th Century",
"Southern Princess" blog
is having a contest. One of the prizes will be:
the 50th anniversary edition
of one of the best-loved books in American history: Harper Lee's Pulitzer Prize-winning classic
"TO KILL A MOCKINGBIRD"
. Featuring some of the most memorable characters in literary history—attorney Atticus Finch, his children Scout and Jem, and of course Boo Radley—To Kill a Mockingbird is the indelible story of race, class, and growing up in the Deep South of the 1930s.
Check out the
"Southern Princess" blog
for additional
CONTEST details
.
Contest ends 28 July 2010!
Please be sure to tell "the Princess" that I sent you so I can get some extra points!

Nelle Harper Lee
was born in 1926 in Monroeville, Alabama. She attended the local schools and studied law at the University of Alabama. For some years she spent most of her time in New York City, where, until she began writing, she was employed in the reservations department of an international airline.
"Aside from writing,"
says Miss Lee,
"my chief interests in life are collecting memoirs of nineteenth-century clergymen, golf, crime and music."

Until next time...stay safe, stay well, and may the Lord bless you all.
Cynde

Please visit my other blogs:
Cynde's Daybook
~and~
Usurper Exposed
. Thank you!