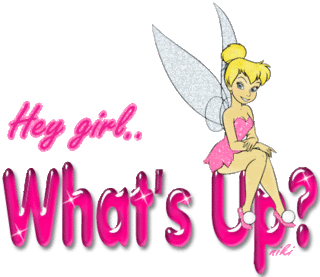 Welcome to another segment of the "What's-Up-Wednesday" Guest Interview. Our guest today is my friend and fellow fiction writer,
Pamela MacLean
, who is also a member of Live Journal's
"SummerWrite2"
Writing Challenge Group. Help me welcome Pam to my blog:
Hi, Pam! I am so glad that you agreed to do this interview today. I really think that our readers will enjoy getting to know you better, and this is the place to do it. Let's start out with the basics. Why don't you tell us a little about yourself, including how long you have been writing?
I'm 22 years old and I'm also a kindergarten teacher. Currently, I have a bachelor's degree in early childhood education. In the fall, I'll be starting work on my masters of Education in Teaching, Learning, and Advocacy. I was born and raised on the coast of South Carolina. I have one sister, whom I'm very close to. I started writing at a young age. I can remember writing stories as early as middle school. My sister and I enjoyed playing out stories with our Barbie dolls when we were younger.
Wow! I'm very impressed! It always makes me happy to see a young person who is actually accomplishing something with their life. Good for you! So, what genre is your favorite?
It's definitely fantasy. I love living and writing in a made-up world.
Was there a light bulb moment that inspired you to become a writer?
There was never really a light bulb moment for writing. It's always been something that I enjoy doing. There have been several light bulb moments for stories that I've worked on, though.
What are you currently working on?
Currently, I am working on two projects with my sister. The first project is one that we have been working on for about five or six years. It started out as a simple novel about magic and has since then evolved into what will probably be a series of novels revolving around magic and a world we've created together. The second project is a single novel. The focus of this novel is a love story between a werewolf and a human. It's a bit more complicated than that, but that's the gist of it.
You've mentioned your sister a couple times now; what is her name and what can you tell us about her, just to satisfy our curiosity?
Her name is Crystal and she's a junior in college. She's almost three years younger than me and the most important thing in my life. We are nearly inseparable, and do lots of things together, including writing.
I guess now would be a good time to give a 'shout out' to Crystal. "Hey, Crystal! How are you, girl? Nice to 'meet' you!"

OK...back to the questions. When you write, do you use outlines?
I rarely do. I use extensive notes about the characters and their back stories, but rarely ever do I use an outline. I like the ending to be a surprise.
Who are your favorite authors?
Jane Austen (especially Pride and Prejudice); Neil Gaiman (Stardust); Sophie Kinsella (Shopaholic series); Stephanie Meyer (Twilight series), Margaret Mitchell (Gone with the Wind)
I see you have Margaret Mitchell — "Gone With The Wind" on your list. "Gone With The Wind" is my all-time favorite book — something exciting is happening on just about every page; it's incredible! What are your favorite writing links and your favorite writing resources?
It varies, depending on what I'm writing. I do enjoy several groups on Live Journal and the opportunities that they provide.
Do you or have you ever belonged to a critique group? If not, would you consider it, or are you against them?
I took two fiction writing classes in college and we critiqued each other's work. That's the closest I've come. Critique groups can be helpful because they let you see other's opinions on your work. However, they can also be very discouraging for a writer.
What is the one piece of advice that you would impart to a writer if you could only share one thing?
Let your imagination be the guide. Don't box yourself in too early.
That's good advice! Well, I want to thank you so much for joining us, Pam. I hope you enjoyed yourself today, and maybe you and your sister (pictured together, above, at one of the Renaissance Faires that they frequent.) would like to come and be interviewed together, just as soon as you publish your first novel? What do you think?
That would be great. I know she'd be happy to do it. We've got to get that first novel finished yet.
And I'm sure you will. I've had a great time, and I'm sure my readers have enjoyed it, too. Good luck with your writing, and we look forward to see you and your sister both on here, together, next time! Again, thank you so much for doing this interview, Pam.
* * * * * * * * * * * * * * * * * * * * * * * * * * * * * * * * *
Until next time...stay safe, stay well, and may God bless you all.
Cynde
Please visit my other blogs:
Cynde's Daybook
~and~
Usurper Exposed
. Thank you!