Today is the 73rd anniversary of the publishing of my all-time favorite book (and my husband's), Margaret Mitchell's classic, romantic drama,
"Gone With The Wind."
It was published on June 30, 1936 by MacMillan Publishing Company.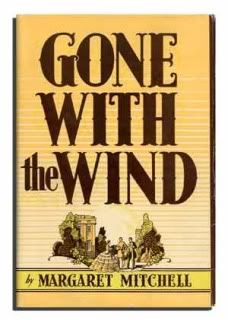 The epic story of
"Gone With The Wind"
was Margaret Mitchell's first and only published book, and it took her over ten years to write it. Sadly, she died when she was hit by a speeding automobile while attempting to cross the street; some say it is because she stepped out into the road without looking. She had confessed for years that she had a feeling that she was going to die in an automobile accident someday. How tragic that her own prophecy was fulfilled.
"Gone With The Wind"
, which is the story about the life of Scarlett O'Hara, the daughter of an Irish immigant plantation owner, and her struggles during the American Civil War and Reconstruction, has sold over 30 million copies and has also won the coveted Pulitzer Prize for Fiction.
In 1939, David O. Selznick went on to produce the blockbuster version of
"Gone With The Wind"
, starring: Vivien Leigh; Clark Gable; Olivia de Havilland; Leslie Howard; Alicia Rhett; Thomas Mitchell; Barbara O'Neil; Ellen Keyes; Anne Rutherford; George Reeves; Fred Crane; Hattie McDaniel; Butterfly McQueen; and Oscar Polk. Some of the notable
Oscar
awards won by/nominated for that film and some of the actors/actresses are:


Won — Vivien Leigh — Best Actress in a Leading Role


Won — Hattie McDaniel — Best Actress in a Supporting Role


Won — Victor Fleming — Best Director


Won — Sidney Howard — Best Writing, Screenplay


Nominated — Clark Gable — Best Actor in a Leading Role


Nominated — Olivia deHavilland — Best Actress in a Supporting Role


Nominated — Max Steiner — Best Music, Original Score


Nominated — Thomas T. Moulton (Samuel Goldwyn SSD) — Best Sound, Recording


and finally...

Won — Gone With The Wind — Best Picture
If you have not read this book, you are missing the most wonderful book ever written. Every page is filled with action, adventure, drama and sometimes even romance. Trust me — you are not going to want to put this book down. It is so much better than the movie ever dreamed of being, and if you want to learn how to write so that you can keep your readers spellbound, then this is the guide you should follow.
Until next time...stay safe, stay well, and may God bless you all.
Cynde
Please check out my other blogs:
Cynde's Daybook
~and~
Usurper Exposed
. Thank you!