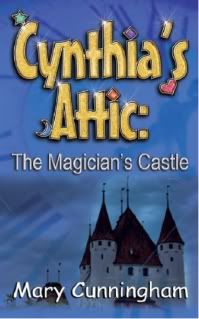 "Cynthia's Attic: The Magician's Castle"
is the fourth and final book (so far) in the four-book
"Cynthia's Attic Series"
written by
Mary Cunningham
, and I'm going to review it for you here on my blog today.
The first book in the series, entitled
"Cynthia's Attic: The Missing Locket"
was already reviewed for you on my blog
here
.
"Cynthia's Attic: The Magic Medallion"
is the second book in the series, and it was already reviewed
here
.
The third book in the series is entitled
"Cynthia's Attic: Curse of the Bayou"
and has already been reviewed for you,
here
.
Before I go any further, let me say that you
could
read each of the books without reading the others, and
still
get a lot of enjoyment out of them. However, I
highly
recommend that you read
all
four of the books in this series! If you don't, you would be missing out on
loads
of fun and adventure, plus I think you would
really
regret it.
The Synopsis:
"Magical costumes, disappearing stairs, and a spooky attic filled with dusty antiques–what more could two, adventurous, young girls ask for?

Sebastien the Great, a magician whose fiancée, Kathryn, disappears through the magic trunk, vows revenge. If Cynthia and Gus don't find a missing page from the "Book of Spells," Cynthia's family could face financial and personal ruin.

Follow this time-traveling duo as they journey back to a 1914 Swiss castle where Eva, Sebastien's grandmother, gives them clues on where to begin their search. Their journey takes them through miles of tree tunnels, an enchanted garden ruled by a cranky rock monster, and even high in the Alps.

They get the surprise of their lives when they're sent 50 years into the future, have a shocking encounter with another set of best friends, and receive a fresh set of clues that could lead to Kathryn's return. But, at what price?"
My Review:
As I stated previously, this is the fourth and final book (so far) in the four-book
"Cynthia's Attic Series"
written by
Mary Cunningham
that I am reviewing here for you on my blog.
Once again, our delightful twelve-year-old protagonists are paired up together on an exciting adventure. They embark on an urgent journey to try to find the missing page from the
"Book of Spells"
that is desperately needed so that Kathryn can be rescued from the year 1864 and returned to her beloved, Sebastien, with whom she belongs.
Many of the things that have occurred in this time-traveling episode were familiar, except that
this
time, Gus and Cynthia have been separated since the previous episode, due to a mistake that took place, and now Gus is
frantic
to be reunited with her. However, that cannot be accomplished until Annie is returned to
her
home in
her
original time period; plus they must also find the missing page from the
"Book of Spells"
. Furthermore, it is now clear that somehow,
everyone
and
everything
is connected to
each other
, in some elaborate, and delicate puzzle that all traces back to Cynthia's family and the friendship between Cynthia's and Gus's grandmothers.
As with all the other episodes, the girls have ultimately time-traveled back in time and have met with relatives and friends from their past, but in
"Cynthia's Attic: The Magician's Castle"
, it will be the first time that Cynthia and Gus have time-traveled
forward
in time, to a time that is in their
future
—beyond the time where some of their loved ones have already gone to
heaven
. It is a
traumatic
time for both of them, but they learn a lot about themselves and each other during this thrilling conclusion to the series—it's an
amazing
book!
My Rating: (poor, fair, good, great, or excellent)
I know I've said it before, but I feel that I
must
say it again: after each book that
Mary Cunningham
writes, her writing gets better and better! Her writing is amazing and so is this book!
The characters in this book are well-rounded, believable, and the dialogue flows so smoothly that you'll get lost in it, believing that you're their in the midst of the action, and a part of it yourself. There were parts of this book that were
so
gripping that I just
couldn't
put it down; sometimes, it made me want to cry but most of the time, I had a big 'ole smile planted right across my face. Mary knows how to dig deep down inside her characters and make them come
"alive"
...and she's done that here, in her entire
"Cynthia's Attic Series"
, but most especially with
"Cynthia's Attic: The Magician's Castle"
.
I would highly recommend this book for children between the ages of 9 and 13 or to anyone who is interested in fun and adventure. I am 50+ years old and I loved every
second
of this book.
This is an
excellent
book—well done, Mary!
Anyone wishing to learn more about the author,
Mary Cunningham
, please visit her website by clicking
here
.
Also,
don't forget:
Mary Cunningham
will be
coming here
next
for a
"Guest Author Interview!"
So...
keep watching!
Until next time...stay safe, stay well, and may the Lord bless you all.
Cynde

Please visit my other blogs:
Cynde's Daybook
~and~
Usurper Exposed
. Thank you!